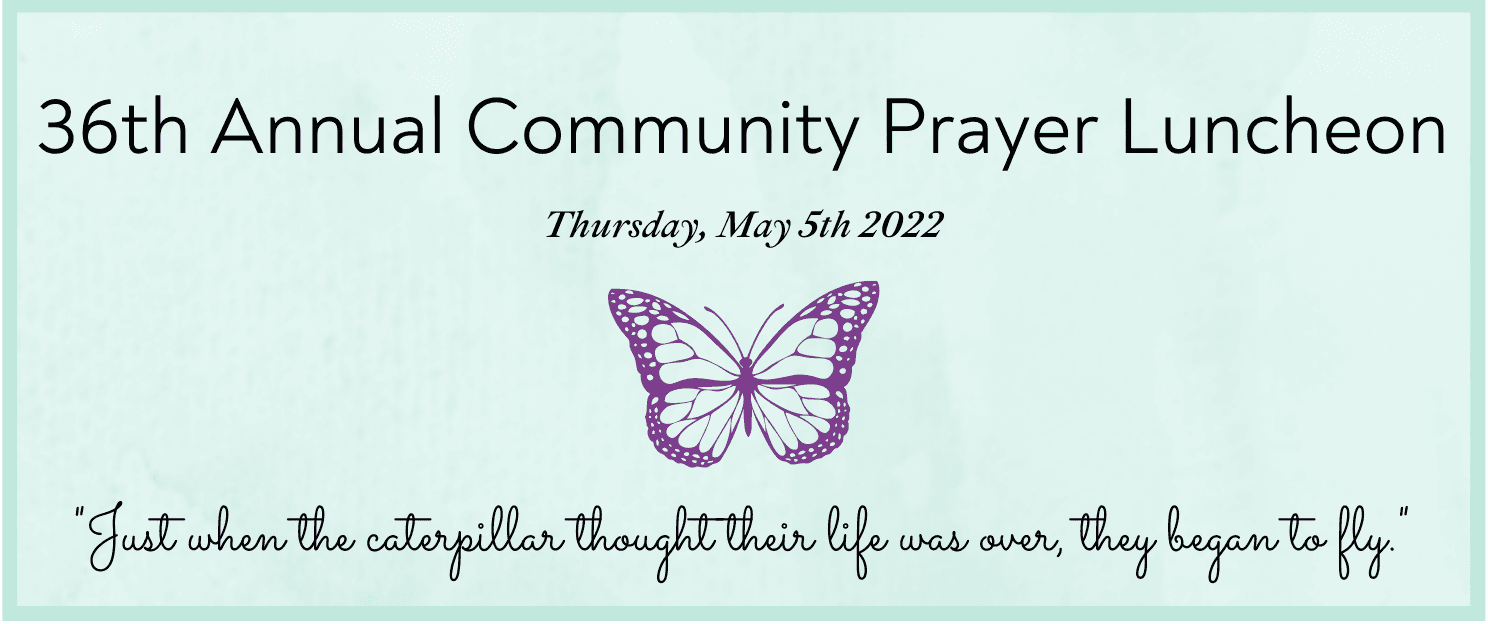 On Thursday, May 5th the Service League held its 36th Annual Prayer Luncheon at Holbrook Palmer Park where we safely gathered outdoors to celebrate the National Day of Prayer. We are elated that so many of you could join us for this meaningful and magical event! 
"When I thought about what would make today a success, for me it was crystal clear. I wanted to use this short time together to go back and remember how things used to be. I thought we could use what we learned in the last couple of years to move forward in an even more positive, powerful and loving way. If you leave here today with your heart feeling full and your spirit lifted, that is what I was hoping for. So please hold onto that special word on your butterfly and share that intention with everyone you see so we can get back to being even a stronger community than we were before. " - Karen M. Francone, Executive Director, during her opening remarks on May 5th.
Steve Wagstaffe, Board Vice President and District Attorney of San Mateo County, MC'd the event which featured soulful musical performances by Break Free Music Ministries and speakers from several religions who volunteer for our Religious & Spiritual Services. We welcomed Rev. Mary Frazier (Bread of Life Worship Center), Rev. Henry Toryo Adams (San Mateo Buddhist Temple), Edna Steele (Christian Science Church) and Philippe Poux (Menlo Church) to share positive messages of faith and coming together as a community.
Carol Galvin, a Hope House alumna and Board member, gave a powerful personal testimony of her life before recovery and her courageous journey to obtaining a full and happy life today.  
Molly Olive, a 30-year volunteer, instructor and mentor for the Service League, was awarded the Bill Lane Ambassador Award for her service and dedication to our organization and those in need of guidance and support.
Thanks to generous donations from our supporters and a match challenge provided by the Michael & Sally Mayer Family Foundation, the event was not only powerful and uplifting but a successful fundraiser as well.
Thank you to all who attended, including our sponsors, donors, volunteers, staff, program Hope House residents and alumni, spiritual leaders and speakers for helping make this event such a huge success!
Thank You to Circle of Hope Sponsors
Thank You to Our Circle of Hope Sponsors
Miracle of Hope Sponsors
Michael & Sally Mayer Family Foundation
Light of Hope Sponsors
PG&E
Heart of Hope Sponsors
Bohannon Foundation
Ehikian & Company
Naomi Kitajima & Tom Langstein
San Mateo Credit Union
Seed of Hope Sponsors
Rosanne Foust & Jim Hartnett
Carol Galvin
Ross Hite
Francine Miltenberger & Ken Kilen
Peter Uccelli Foundation
Sharri & Dan Robinson
Paul & Judy Scannell
San Mateo County Sheriff's Office